Immunofluorescence staining
The differentiation into A9 dopaminergic neuron precursor cells (A9-DPC) was confirmed by high expression of En1, FoxA2, and Lmx1A, which are specifically expressed in A9-DPC in the differentiated cells.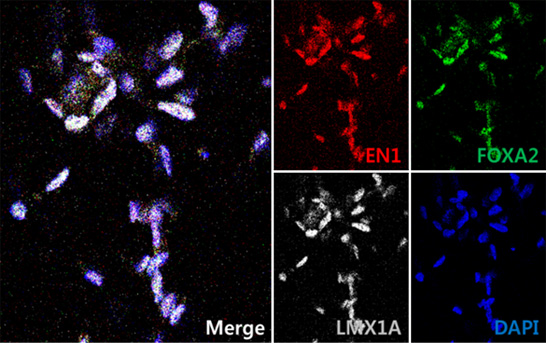 EN1+/FOXA2+ /LMX1A+ Cell
Confirmation of functions
Dopamine concentration was measurement by inducing differentiation into dopaminergic neurons with TED-A9. As a result of checking dopamine concentrations in differentiation cell cultured medium (Conditioned media), differentiation cell cultured medium stimulated by potassium chloride(KCl), and differentiation cell lysate (Lysate), dopamine was detected in all conditions. Through this, it was confirmed that the differentiated dopaminergic neurons on TED-A9 have functionality.